Welcome to the Tutankhamen Centenary 1922- 2022 website!
For more information on how to use the website click here.
This website was assembled to mark a century since the Tomb of King Tutankhamun was discovered in Luxor, Egypt, in November of 1922. It is a showcase of the work of University of Washington Master's of Library and Information Science (MLIS) Capstone students and students in the NEAR E 485 course, and it contains some of the private papers of Howard Carter, in scanned, transcribed, and searchable formats. It also contains articles from the Times of London published between 29 November 1922 and 20 January 1927 concerning the tomb, its discovery, and its impact.
For more information on the creators of the website, please see our About menu.
Thank you!
_________________________________________________
"The tomb seems filled with his living presence; every object touched with memories of him, fresh, almost, as on the day he died. But he himself — his personality, all that he was and did — eludes us: a name, a shadow, a thing of controversy and conjecture."
(From "The Tomb And The King.," March 23, 1923.)
---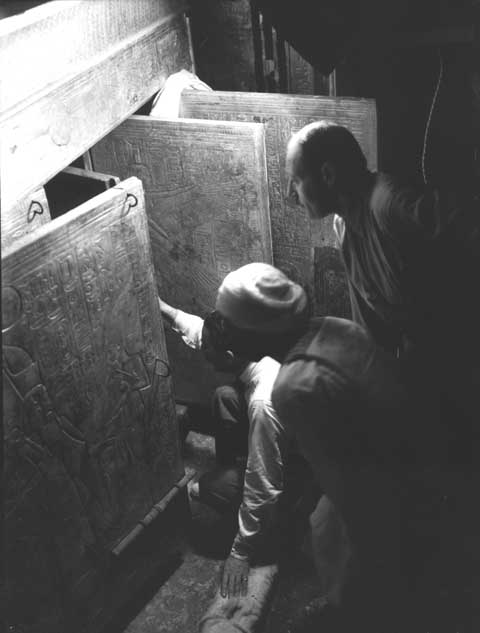 4th January 1923, Tutankhamun's Tomb. Howard Carter (kneeling), Arthur Callender, and an Egyptian workman in the Burial Chamber, looking through the open doors of the four gilded shrines towards the quartzite sarcophagus. Burton photograph 0643 © Griffith Institute, University of Oxford.
The Times of London
In 1923, following the discovery of Tutankhamun's tomb, the world was in a flurry of curiosity and every newspaper seems...
Howard Carter
Informal portrait of Howard Carter standing with a book in his hand next to a train at a station in Chicago, Illinois.